Nashville Flea Market Frequently Asked Questions
How much is a space?
All buildings (regular 10 x 10) spaces $115.00; Corner spaces $135.00
Lots (10 X 18) $75.00
All Sheds, Canopy, Show Arena spaces $75.00 (10 x 10)
Tables $10.00
Chairs $5.00
Electric is included in all spaces.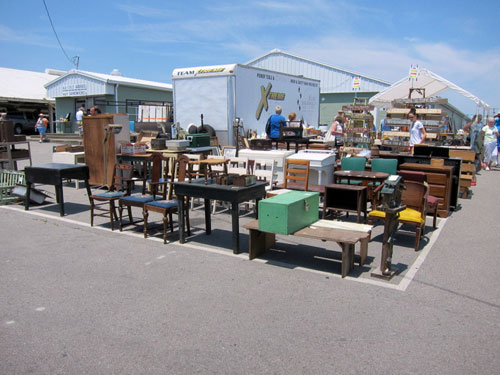 Photo Credit: Petticoat Junktion
Does the price of the space include tables, chairs and electric?
Electric is included in all spaces
Tables $10.00
Chairs $5.00
Is the Flea Market every weekend?
No, the Flea Market is held the 4th Saturday weekend of each month, except December when it moves to the 3rd Saturday weekend.
Is there an application to become a vendor?
The Nashville Flea Market is now implementing a new system that allows vendors to request and book their booths from the comfort of their homes. By creating a profile on the Marketspread website you can become a vendor with the Nashville Flea Market. You will no longer need to come to the office to apply to become a vendor.
If you have any questions please call our office at 615-862-5016 and leave a message.
Does your Flea Market allow the sale of food?
Yes, all food sales for immediate consumption must go through our concessionaire D&D Events; they can be reached at (615) 953-3574.
Can a vendor offer samples?
Yes, we have several dealers who sell bulk coffee, dips, sauces, etc. Samples are not a problem as long as health regulations are followed.
Does a vendor have to have a sales tax number and business license?
Many vendors sell at shows only while others utilize the Flea Market to promote their business, if vendors do not have a business license or sales tax numbers we can provide temporary certificates to be used during the show.  The cost is an additional $9.00.
What are the hours of your Flea Market?
January through December we are open from:
8 a.m.–5 p.m. on Friday
7 a.m.–6 p.m. on Saturday
7 a.m.–4 p.m. on Sunday
Can a vendor sell look alike items?
As long as the item is not considered counterfeit or in violation of any copyright laws, it can be sold, but if there is any doubt you will need to see the Flea Market Manager as we do not allow any counterfeit merchandise to be sold in our show. 
Does the Flea Market allow the sale of animals or livestock?
No.
Does the Flea Market charge admission?
No, but we do charge $5 for parking, this covers a shuttle to transport, parking attendants, and security personnel for the parking areas.
Can I bring my pets to the Flea Market?
NO. And pets left in vehicles may be reported to the proper authorities.