Nashville Flea Market
The Place to Show and Sell
Flea Market Information
Nashville Flea Market dates and times
The Nashville Flea Market at The Fairgrounds Nashville is considered one of the top ten flea markets in the country. Approximately 800 to 1200 dealers and vendors from 30 states offer their wares to the buying public every month. With an average of 2000 booths, The Tennessee Magazine and Busy Bee Trader continue to vote the Nashville Flea Market as the #1 FLEA MARKET in Tennessee.
For more than half a century, this iconic event operates monthly drawing an impressive ½ million visitors annually and growing.
Founded in 1969, the Nashville Flea Market has been in operation for almost 60 consecutive years. The mission is to provide a venue for travelling and local vendors to make a living while offering the community an alternative to the traditional, big box shopping experience.
Items sold at the flea market represent more categories than one can list. Merchandise sold features antique furniture, dishware, knick knacks, specialty foods, boutique clothing, carpets, health and beauty items, jewelry, perfume, leather goods, paper goods, yard art and more. The selection is endless and the finds are superbly unique.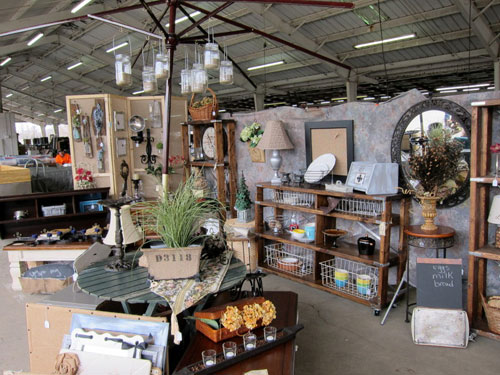 Photo Credit: Petticoat Junktion
Virtual Nashville Flea Market
Visit the Virtual Nashville Flea Market
The Nashville Flea Market has been a Nashville tradition for over 50 years and has only had to cancel once due to inclement weather. Our team has worked hard to ensure that our vendors and patrons were able to attend the market every month as scheduled. Unfortunately, because of the current COVID 19 pandemic, we have had to place the Nashville Flea Market on hold temporarily until events of our size can safely resume. The Fairgrounds Nashville property is a government department with the city of Nashville that is responsible for following all state and city-mandated orders regarding events of our size during this pandemic.
During these times, the Nashville Flea Market would like to make another way for our patrons and current/permanent vendors to connect safely. The Nashville Flea Market will become virtual until we can resume the in-person market. A virtual flea market will allow for our vendors and patrons to connect. The virtual Nashville Flea Market is open to current vendors that have participated in The Nashville Flea Market since January 2019 and have been affected by the current COVID-19 pandemic. The Fairgrounds Nashville presents the Virtual Nashville Flea Market.
Flea Market Factoids
As one of the last vestiges of small entrepreneurship in the U.S., the country's over 1100 U.S. flea markets provide opportunities for approximately 2.25 million vendors conducting over $30 Billion in sales annually. The markets are visited by over 150 million customers each year. Flea markets contribute to the local, state, and federal economy through real estate, food, sales and use taxes. In addition, the federal government recognizes flea markets as a regulated form of retail business and permanently includes them in the national census for purposes of determining the country's gross national product (GNP).