Fairgrounds Nashville Improvement Project Update: The Week in Review: August 19-23
August 26, 2019
Moving Update
We have moved the administrative offices of Fairgrounds Nashville to the new Expo Center. The new expo site is not yet open to the public so please contact us via email, phone, or cell if you'd like to make an appointment and we will make necessary arrangements to meet with you. Note: The Flea Market offices will not move until August 30. We can't wait to show you our beautiful new buildings at September 6 ribbon cutting.
Construction Update
The fine grading of the courtyard in front of Expo 2 continues.
Metro Information Technology Services and ACT are in the process of installing audio visual, internet, and security systems.
Landscaping works continues.
The final section of pervious pavers outside the sheds is slated to be placed in the coming week, with 99 percent completed.
In the kitchen, coolers and freezers have been placed and hooked up
Electric power for lighting was connected in the Show Arena.
Light pole installation has begun outside the Expo Center and Show Arena (see photo below.)
News Articles
Images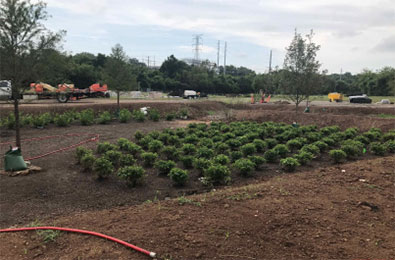 Landscaping outside the Fairgrounds Exposition Center is well underway.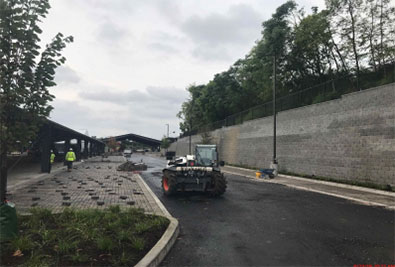 Photo shows light poles that have been installed near the Show Arena.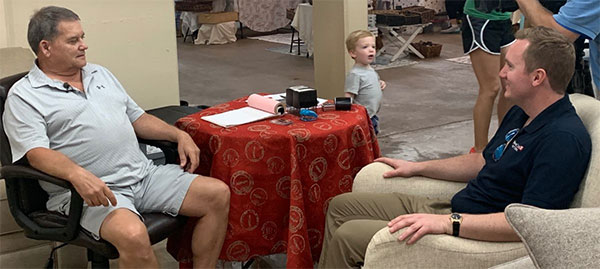 WTVF News Channel 5's Jesse Knutson (right) interviews furniture craftsman and vendor Jim Reed, who's had a flea market booth for 46 years. Reed says of the new Expo Center: "I'm ready for it!"